ABOUT US
Learn about who we are, our mission, and find answers to frequently asked questions.

LEARN MORE
Click to Give - Thank You!
The Parish Support you give to St. Mary's and St. John the Baptist is used for the day-to-day operation of the parish and our programs. You may set up a one-time or recurring donation to either parish. All donations are greatly appreciated! God bless!
St. Mary's

Mass Times
528 Second Street
Menasha, WI 54952
725-7714
Daily Mass:
Tuesday and Friday at 8:10am
Weekends:
Saturday Vigil Mass at 5:30 pm - ad orientem
Sunday at 7:00 and 10:30 am
As we are in Phase II of our return to Mass, we have limited seating capacity.
We encourage you to arrive early for Mass. If we reach our capacity you will be directed to an alternate Mass.
Reconciliation
Tuesday: 7:45 - 8:00 am
Friday: 7:45 - 8:00 am
Exposition of the Blessed Sacrament
Tuesday and Friday 7:00 am - 8:00 am
St. Mary is open Monday through Thursday from 11:00 am through 1:00 pm and on Friday from 11 am - 12 pm for personal prayer.



OFFICE HOURS
Location/Time
528 Second Street
Monday-Friday 8 am to 3:30 pm
Summer Hours
(Memorial Day-Labor Day)
Mon – Thurs 8:00 am to 3:30 pm
Fri 8:00 am to noon.
(Closed Good Friday afternoon, Memorial Day, Independence Day, Labor Day, Thursday and Friday of Thanksgiving, Christmas and New Years)
St. John's Mass Times
516 De Pere Street
Menasha, WI 54952
725-7714
Daily Mass:
Wednesday and Thursday at 7:30 am
Weekends:
Saturday Vigil Mass at 4:00 pm
Sunday at 9:00 am - ad orientem
As we are in Phase II of our return to Mass, we have limited seating capacity.
We encourage you to arrive early for Mass. If we reach our capacity you will be directed to an alternate Mass.
Reconciliation
Wednesday: 7:00 - 7:15 am
Thursday: 7:00 - 7:15 am
Saturday: 3:00-3:45pm
Exposition of the Blessed Sacrament
Wednesday and Thursday 6:45 am - 7:20 am
St. John is open Tuesday evenings from 6:00 through 7:30 pm for personal prayer.
Father Paul and Steve Parish Update - Return to Mass, Sept 18, 2020 at 1:00pm
It is a joy to be able to announce after careful deliberations the Bishops of Wisconsin have lifted the dispensation from attending Mass and it will indeed be a blessing to see everyone once again.
Safety is the top priority as we continue to have public Mass
It will be so nice to see everyone once again.

We want this to continue so we have to be charitable and respectful of each other.
Looking out for your Spiritual Health
"if individuals are frail due to illness or age or, in their well-formed consciences believe that going into public places - including Sunday worship at Mass - would place their health or the health of their loved ones in serious jeopardy, they too are not bound by this obligation."

We have been listening to you and have made some improvements

The Parish Councils have met and discussed these improvements
Temperatures will still be taken as you arrive
Masks are required, but we understand that some people may have underlying conditions and cannot wear a mask -please be respectful

We will have designated area for those without masks

Back of each parish on St Joseph side

Those not living in the same household will be seated by an usher six feet apart as well as spaced six feet apart in the Communion line

Please be aware of this when you are in the pews

The Ushers will be helping
Please be respectful to the ushers

They are trying to seat as many people as possible while maintaining the social distance

We recommend receiving the Holy Eucharist in the hand, but those receiving on the tongue are asked to receive after all others have received

Again this is for everyone's safety
Father will be using hand sanitizer after giving someone Communion on the tongue

If you have a loved one at home who would like to receive Holy Communion you must be a Eucharistic Minister – See the parish office
Hand sanitizer is available as you enter and exit the church
All pews, handrails, doorknobs and other high touch areas are sanitized after every Mass
Only one entrance is being used at each church site – Greeters there to help

Link Door at St Mary
Door between church and school at St John

Handicap entrance if needed

You do NOT need to register for Mass

As stated before we do have to abide by the 6 foot physical distancing
If we do reach this limit, we will have to ask you to attend another Mass

We have not had any problems with this
We will have the ability for overflow in the SM cafeteria

We only have one collection, please put your second collection envelope in with the parish support collection
Ushers will dismiss everyone back to front once Father has left the Sanctuary

Again, please be patient
Exit at St John will be the doors at 5th and DePere
Exits at St Mary will be the back main entrances

Please do not linger in the vestibule of church for everyone's safety

We continue to humbly ask for your assistance

Greeter, Ushers, and Cleaners are needed at all Masses

Please know you do not need to have previously served in one of these ministries.

Brief instructions will be provided upon you arrival at Mass

Going forward, we will not be sending an e-mail each week with a Sign Up Genius link

Please volunteer to help by noon on Friday by using

Link provided each week on Facebook and our website
Go Directly to signupgenius.com, sign in and click on the magnified glass to search for the sign up

Search under e-mail address
The current sign up will then appear

Call the parish office
Sign up sheets will be available at the greeters table
Other Items
We continue to Live Stream our daily Masses, 2 weekend Masses, Rosary and the Divine Mercy Chaplet.
40 Days for Life

Please sign up for a day and time to pray at the Planned Parenthood Center

You can pray at home is you are unable to go to the center

You may contact Gladys Hanson or Wendy Fischer with questions

Their information is in the bulletin

Cemetery Prayer Walk update – All Saints Day

Being held on Sunday, November 1 after the 9:00 and 10:30 Masses

Adult Faith Formation with Debbie Spielbauer starting 10/14
Middle School Youth Mini-Lock in 10/3
We have 11 Youth Core Team members-Planning youth events and mission work

Great job to Bethany and Graham
Have a great weekend and hope to see you at Mass
The dispensation for Sunday Mass obligation has now been lifted and all Catholics are once again gathering as a community of faith on Sundays.
The lifting of the dispensation was announced in a decree issued by Bishop David Ricken on
Monday, Sept. 7.
www.gbdioc.org/sundayobligationdecree
With this news, please note there are still occasions when the obligation to attend Sunday Mass does not apply:
- If individual Catholics struggle with serious health concerns or are physically or morally prevented from worshipping at Mass for a grave reason
- If individuals are frail due to illness or age or, in their well-formed consciences believe that going into public places -- including Sunday worship at Mass -- would place their health or the health of their loved ones in serious jeopardy
- If individuals are sick, or have been in contact with someone who has been sick
The faithful who are unable to attend Mass are urged to make holy the Lord's Day and to pray, read the Scriptures, watch a broadcast or livestreamed Mass and take part in acts of charity.
The diocese also issued guidelines for public Masses at
www.gbdioc.org/sundayobligationreinstatement.

These guidelines make clear that face masks are still required, and that, while restrictions will be lifted on the percentage of people at Mass, the standards of social distancing will still be upheld.

The obligation to attend Mass for Catholics reflects our faith in Jesus Christ, the blessing of the Holy Eucharist and an acknowledgment of His great love for us.
---
Give generously to the Seminarian Collection. We need good and holy priests to serve the parishes in our Diocese.
Joshua 1:9!
WEEKEND MASS ASSISTANCE
If you can assist we need help Greeting, Ushering and Sanitizing the Church. If you can help, please sign up on our Sign Up Genius! Click the link below: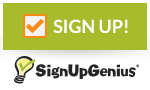 Daily Masses, Confession and devotions have returned to their normal times and locations.
Live Streaming on Facebook Live, (@menashacatholicparishes) you don't need a Facebook account go to: https://www.facebook.com/menashacatholicparishes/live
Live Stream Masses:

Daily Mass - Tues & Fri at 8:10 am and Wed & Thurs at 7:30 am
Saturday Mass - 5:30 pm from St. Mary
Sunday Mass - 9 am from St. John
You are invited and encouraged to make a Spiritual Communion.
Live Stream Devotions
Wednesday
- Adoration/Chaplet of Divine Mercy/Benediction - 3:00-3:30pm
Tuesday (7:30am) & Thursday (6:55am)
- Holy Rosary
Facebook (@Menashacatholicparishes) and our Website are our primary means of communication during this time. Please "like" and follow our Facebook page and bookmark our website: menashacatholicparishes.org.
Please support the Seminarian Collection for our Diocese
____________________________________________________________________________________________________
We would love to improve our communication with you. We encourage you to download our Parish App. It will allow us to keep in touch and send important parish notifications. We want to use this NEW communication method to reach our SM/SJ Parish Family. Contact us with any questions regarding this communication platform!
Youth Ministry Middle School at High Cliff
Youth Activities! High School Tubing July 2020
September

S

un

M

on

T

ue

W

ed

Th

u

F

ri

S

at

1
2
3
4
5
6
7
8
9
10
11
12
13
14
15
16
17
18
19
20
21
22
23
24
25
26
27
28
29
30
There are no upcoming scheduled events.
St. Mary Elementary School
540 Second Street
Menasha, WI 54952
Office Hours: 7:30 am – 3:30 pm
School Day: 8:00 am – 3:00 pm
School office: 725-5351
email: Mrs. Sandra Piotrowski at
[email protected].
Deacon / Parish Life Coordinator

Business Manager

Bookkeeper

Faith Formation Coordinator

Youth Ministry Intern

Parish Musician

Cemetery Coordinator and Adult Choir Director

Parish Musician

SM Elementary School Principal