ABOUT US
Learn about who we are, our mission, and find answers to frequently asked questions.

LEARN MORE
Click to Give - Thank You!
The Parish Support you give to St. Mary's and St. John the Baptist is used for the day-to-day operation of the parish and our programs. You may set up a one-time or recurring donation to either parish. All donations are greatly appreciated! God bless!
St. Mary's

Mass Times
528 Second Street
Menasha, WI 54952
725-7714
Daily Mass:
Tuesday and Friday at 8:10am
Weekends:
Saturday Vigil Mass at 5:30 pm - ad orientem
Sunday at 10:30 am
Reconciliation
Tuesday: 7:45 - 8:00 am
Friday: 7:45 - 8:00 am
Exposition of the Blessed Sacrament
Tuesday and Friday 7:00 am - 8:00 am
St. Mary is open Monday through Friday from 11:00 am through 1:00 pm for personal prayer.



OFFICE HOURS
Location/Time
528 Second Street
Monday-Friday 8 am to 3:30 pm
Summer Hours
(Memorial Day-Labor Day)
Mon – Thurs 8:00 am to 3:30 pm
Fri 8:00 am to noon.
(Closed Good Friday afternoon, Memorial Day, Independence Day, Labor Day, Thursday and Friday of Thanksgiving, Christmas and New Years)
St. John's Mass Times
516 De Pere Street
Menasha, WI 54952
725-7714
Daily Mass:
Wednesday and Thursday at 7:30 am
Weekends:
Saturday Vigil Mass at 4:00 pm
Sunday at 9:00 am - ad orientem
Reconciliation
Wednesday: 7:00 - 7:15 am
Thursday: 7:00 - 7:15 am
Saturday: 3:00-3:45pm
Exposition of the Blessed Sacrament
Wednesday and Thursday 6:45 am - 7:20 am
St. John is open Tuesday evenings from 6:00 through 7:30 pm for personal prayer.
JOIN US!
---
We want to make sure that all are aware that until further notice, the dispensation from the obligation to attend Sunday Mass has been reinstated by Bishop Ricken.
Please know, that even with the reinstatement, St. Mary and St. John the Baptist will continue to celebrate Mass publically with our normail daily and weekend Mass schedule for those who are able to attend and willing to strictly follow the proper health protocols. During this time of increased infection, our parish will to be even more vigilant in observing the health protocols shared in the diocesan guidelines to help prevent the spread of disease and allow as many people as is safe to come to Mass without fear of infection. The wearing of masks is mandatory at Masses celebrated here and throughout our diocese. We continue to strongly encourage everyone to observe social distancing and frequent hand hygiene. We further ask that those who wish to receive communion on the tongue wait and come up at the end of the line for Communion. We thank you for your support and compliance as we find ourselves in this time of very high alert throughout the diocese.
We would also like to limit access to the parish office at this time. We encourage you to call in your scrip orders, that will allow us to have the scrip order ready for you and hand it to you in the vestibule. This has worked well and makes it safe and easy for both you and our parish staff. Thank you!
Joshua 1:9!
WEEKEND MASS ASSISTANCE
If you can assist we need help Greeting, Ushering and Sanitizing the Church. If you can help, please sign up on our Sign Up Genius! Click the link below: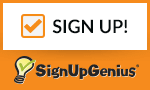 Daily Masses, Confession and devotions have returned to their normal times and locations.
Live Streaming on Facebook Live, (@menashacatholicparishes) you don't need a Facebook account go to: https://www.facebook.com/menashacatholicparishes/live
Live Stream Masses:

Daily Mass - Tues & Fri at 8:10 am and Wed & Thurs at 7:30 am
Saturday Mass - 5:30 pm from St. Mary
Sunday Mass - 9 am from St. John
You are invited and encouraged to make a Spiritual Communion.
Live Stream Devotions
Tuesday (7:30am) & Thursday (6:55am)
- Holy Rosary
Facebook (@Menashacatholicparishes) and our Website are our primary means of communication during this time. Please "like" and follow our Facebook page and bookmark our website: menashacatholicparishes.org.
____________________________________________________________________________________________________
We would love to improve our communication with you. We encourage you to download our Parish App. It will allow us to keep in touch and send important parish notifications. We want to use this NEW communication method to reach our SM/SJ Parish Family. Contact us with any questions regarding this communication platform!



POPULAR LINKS



January 2020 Newsletter
Sign-up for Warming Shelter Meals
SCRIP Order Form (Front)
SCRIP Order Form (Back)

Growing in Faith Together
"We are a group of Fox Valley Catholic Parishes working together to offer engaged programming, dynamic speakers and a community among all the Fox Valley parishes. Through GIFT's programming, we will grow in our faith TOGETHER."
Youth Ministry Middle School at High Cliff
Youth Activities! High School Tubing July 2020
February

S

un

M

on

T

ue

W

ed

Th

u

F

ri

S

at

1
2
3
4
5
6
7
8
9
10
11
12
13
14
15
16
17
18
19
20
21
22
23
24
25
26
27
28
There are no upcoming scheduled events.
St. Mary Elementary School
540 Second Street
Menasha, WI 54952
Office Hours: 7:30 am – 3:30 pm
School Day: 8:00 am – 3:00 pm
School office: 725-5351
email: Mrs. Sandra Piotrowski at
[email protected].
Deacon / Parish Life Coordinator

Business Manager

Faith Formation Coordinator

Youth Ministry Intern

Parish Musician

Cemetery Coordinator and Adult Choir Director

Parish Musician

SM Elementary School Principal